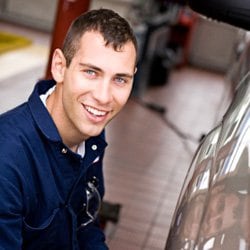 Find Genuine Ford Parts at Metro Ford in Madison, WI
Our team wants to make sure your vehicle will always perform its best, and genuine parts from the manufacturer will keep your vehicle more reliable than aftermarket or off-brand parts will. No matter if you are looking for a Ford accessory or part, our professionals will help you find the part that is perfect for your model. We want this process to be as simple as possible, which is why we encourage you to use our online forms before visiting our dealership.
We want to see you being comfortable in your vehicle, and knowing it will be reliable is important. Aftermarket and off-brand parts are mass-produced to fit a variety of makes and models, but when you choose a part from the manufacturer, it will be specifically designed for your vehicle. Ford has a legacy of reliability and durability, which is why we encourage you to trust them with the parts that you will be putting into your vehicle. No matter if you are looking for spark plugs near Waunakee, all-weather floor liners near Sun Prairie, or anything for your truck near Stoughton, WI, we can provide the easiest way for you to get it.
Even with our diverse inventory, there is a chance we won't have what you need; if this happens, we will find the part for you and have it sent to our dealership for you to pick up. We do this so that you don't have to drive all over the place to find what you might be looking for.
We look forward to seeing you soon at our dealership so that we can find you everything that you need for your vehicle. Our team takes pride in being able to find the perfect parts and accessories for many customers around the Cottage Grove and Madison, WI area, and we are sure that we can find you exactly what you need.